Stable Detection
[TECHNOLOGY FOR STABLE DETECTION]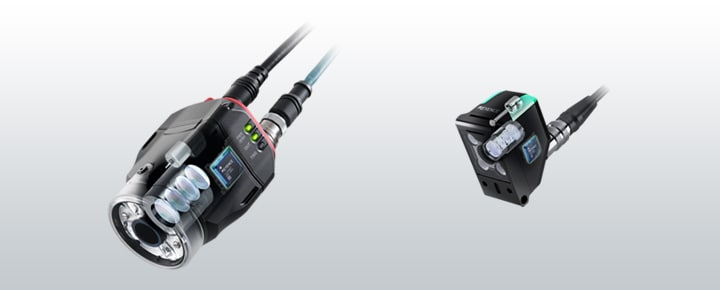 First-In-Class Automatic Focus Mechanism
Our first-in-class automatic focus mechanism has evolved even further. We have newly developed this mechanism to be more compact and to have higher accuracy. By combining the automatic focus drive unit and the lens case and then designing them in the optimal manner, we have achieved a mechanism that is 40% more compact than conventional ones. Also, by improving the durability of the drive unit, we have enabled this compact automatic focus mechanism to operate in a wider range than conventional mechanisms.
Low Optical Distortion
HP-QUAD* Lens
The newly developed lens contains 4 layers of glass that achieve low aberration with high light-gathering power. It captures bright, clear images with low distortion for stable detection.
*High Precision-Quad
Hi-R* illumination
Our pursuit of an even more efficient reflector shape with less LED light intensity loss has enabled the realisation of outstanding brightness and uniformity.
*High Reflection
Lighting Attachments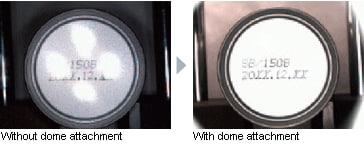 DOME LIGHT


Effective in reducing glare. Generating indirect light from various directions ensures the object is uniformly illuminated. No external power supply is necessary, which reduces introduction costs to 1/10th of conventional lights.
* This method is more effective than a polarization filter at reducing glare.
POLARISED FILTER


Glare from glossy surfaces is reduced because only one direction of the light wave components is transmitted. The compact size enables easy installation.
[NEWLY DEVELOPED PATTERN TOOL FOR STABLE DETECTION]
Shape Detection
The match percentage of the object is calculated based on the shape of the registered master image. Brightness differences or differences in individual surface conditions, which were previously difficult to handle with normalized correlation methods (pattern matching) can now be identified.
PASS

Detection of contour difference
FAIL
Area
Using the registered master area (number of pixels) as reference, the difference in area from the inspection object is calculated. When using a colour model, judgement can be made based on the desired area of the specified colour. When using a monochrome model, brightness is judged by the area binarised in black and white.
PASS

Detection by cable colour difference
FAIL
Position Adjustment
If the object is misaligned, 100% inspection cannot be achieved because the object may be outside the inspection area. The position adjustment function calculates the amount of misalignment from the master image in order to correct the position, and enable correct judgment. In addition, 360° rotation is supported for high speed tracking. This means you don't need to worry about misalignment of the workpieces.
PASS

Detection of sticker presence/absence by using position adjustment
FAIL