Choose your application.
Selecting a Measurement Sensor
Select the application you are interested in.
Deflection and Decentering
The sensors introduced here measure the amount of deflection of a target. When measuring a targets deflection and vibration a sensors responsiveness is one of the most important considerations.
It is also possible using these devices to generate a display to show individual readings or combined results from multiple measurement heads.
System Appearance
| | |
| --- | --- |
| Target Detectability | Any object |
| Measurement Accuracy | |
| Measurement Coverage | |
| Sampling Speed | |
System Appearance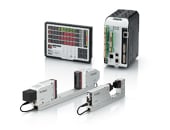 | | |
| --- | --- |
| Target Detectability | Any object |
| Measurement Accuracy | |
| Measurement Coverage | |
| Sampling Speed | |
System Appearance
| | |
| --- | --- |
| Target Detectability | Any object |
| Measurement Accuracy | |
| Measurement Coverage | |
| Sampling Speed | |