Choose your application.
Selecting a Measurement Sensor
Select the application you are interested in.
These sensors measure the outer diameter of a cylindrical object. Although the measurements referenced here are single axis, measurements with two or more axes are also possible.
Two methods are possible for measuring inner diameters: a Non Contact thrubeam type measurement instruments and a contact type measurement instruments.
System Appearance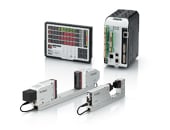 | | |
| --- | --- |
| Target Detectability | Any object |
| Measurement Accuracy | |
| Measurement Coverage | |
| Sampling Speed | |
System Appearance
| | |
| --- | --- |
| Target Detectability | Any object |
| Measurement Accuracy | |
| Measurement Coverage | |
| Sampling Speed | |
System Appearance
| | |
| --- | --- |
| Target Detectability | Solid objects |
| Measurement Accuracy | |
| Measurement Coverage | |
| Sampling Speed | |