Barcode Scanners
A rich lineup of code readers that support an ultra-wide field of view, and ultra-long reading depth. These products allow for stable inline reading of barcodes and 2D codes at high-speeds in the logistics and manufacturing industries. The lineup includes a fully automatic tuning type that requires no external lighting so that anyone can easily install, operate, and monitor the readers from nearly anywhere.
Lineup
Obtain a wider field of view and greater depth of field at a longer range. Work as fast as the targets can move. No experience is required to master the SR-2000 Series. Just install the reader for vastly improved reading range and achieve even better reading stability.
Features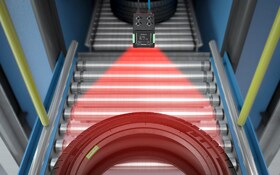 Ultra-wide Field of View
A field of view 4x wider compared to conventional models makes for easy reading of multiple codes and varying code positions.

[Application examples]
Reading codes at different locations on engine parts
Reading codes on multiple electronic PCB at once
Reading codes on different-sized tires
Greater Depth of Field at Longer Ranges
With more than twice the reading distance of conventional models, there's no need for controlling code position or tooling changes.

[Application examples]
Improve workability and productivity around semi-automatic equipment
Read codes at varying heights with just one code reader
The SR-5000 Series logistics code reader offers an ultra-wide field of view, ultra-long depth of field, and high-speed reading, resulting in easy installation and operation in logistics environments for reliable capture of codes on fast-moving packages. Stable reading is ensured even when packages of different shapes and sizes are on the same line moving at high speeds, regardless of where the barcode labels are found on the packages. These readers eliminate the need to prepare to align the packages to one side of the conveyor, thereby contributing to reduced costs and a lower risk of malfunction thanks to the simplified conveyor system. While multiple readers were conventionally necessary for reading one side, simply installing one SR-5000 Series reader per side makes it possible to read the codes on labels affixed on the top and sides of packages of different sizes and varying locations. This is possible thanks to the ultra-wide field of view and deep depth of field of the SR-5000 Series.
Features
Ultra-Wide Field of View & Ultra-Long Reading Depth
Reliable reading even for packages of different sizes.
Ultra-High Speed
Stable reading even on high-speed lines exceeding 150 m/min.
Reading the most difficult 1D and 2D codes is made simple though the introduction of new features including automatic tuning, autofocus, and built-in polarisation. Best-in-class performance is paired with built-in I/O and field network functionality, including EtherNet/IP and Profinet, to allow for easy integration with any system.
Offers high performance and high speed code reading in a compact body to easily integrate into existing systems. Setup is simple so even new users will readily understand.
Features
Compact Body
The compact body can be mounted in small spaces, expanding the range of applications.
High-Quality, High-Speed Reading
New algorithms provide best-in-class reading capability even when the code is hard to read.
KEYENCE's new BL-1300 Series (3Hi-Digital) models. The first models in this class to use parallel digital processing technology.
Provides high quality reading performance of 1D and 2D codes. Built-in code corrective algorithms mean reliable reading, even when code quality changes due to printing or marking variances.
Long range, 700 scans/sec., laser type barcode readers with Windows® setup software, offers a reading range of up to 47inches.(1200mm)
Half the size, twice the range of other Barcode Readers in its class, built-in PMI function for real time monitoring and reading performance reporting.
LED/CCD type barcode readers using a compact, space-saving design for mounting flexibility and OEM applications.