Digital Microscopes
A digital microscope that can observe surface structures and 3D objects with clear images thanks to its large depth of field and long observation distance. The Optical Shadow Effect Mode features a combination of specially designed high-resolution lenses, a 4K CMOS, and high-performance lighting that enables minute surface details to be observed and analyzed. Dedicated lenses, a flexible free angle observation as well as multiple lighting and measurement functions ensure precision and make this microscope easily usable for a broad variety of applications.
Lineup
4K High Accuracy digital microscope capable of capturing high resolution images and measurement data for inspection and failure analysis, at the push of a button.
Features
View, Capture and Measure with an All-in-One System
VIEW
Observation can be carried out whenever required without user adjustments
Allows examination at high depths. Lenses, cameras and graphics engines are designed in-house, ensuring an optimal balance between depth of field and brightness.
Intuitive microscopy can be performed whenever required, even by first-time users.
CAPTURE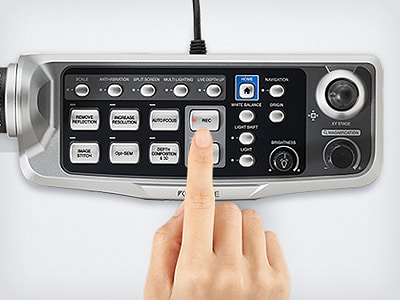 Images can be saved and shared easily with minimal effort
Thanks to the built-in 1 TB hard disk drive, observed images can be saved just as they are. Saved images can be shared easily over LAN or with USB devices. Standard reports can be created automatically using commercially available software.
MEASURE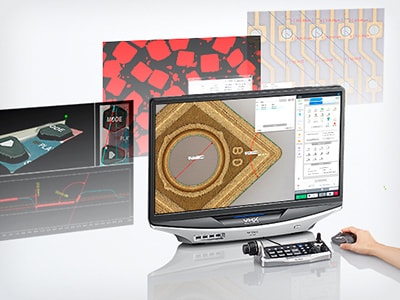 Perform a wide variety of measurements with just one device
2D or 3D measurement can be carried out simply by operating the mouse. Roughness measurement, contamination analysis, grain size measurement and a wide range of other measurements can be carried out with just one device.
High-Resolution Images Draw Out the Finest Details
Optical Shadow Effect Mode
Using a specialised design featuring a High resolution lens, a 4K CMOS image sensor and illumination technology, KEYENCE has developed a whole new method of microscopy.
View, Capture, Measure more intuitively. Easy to use. Entry level microscope. | VHX-970F
The lens unit is comprised of 24 lenses in total, including 13 lenses for the objective section, and 11 lenses for the zoom section. Using a silica lens, the VHX series can correct chromatic aberration.