High Accuracy Image Dimension Measurement System
LM series
High Accuracy Image Dimension Measurement System
LM series
±0.1 μm
Allowing Anyone to Take Highly Accurate Measurements
±0.1 µm Repeatability
Anyone Can Use It
Fast Measurements
A high-precision, optical gauge that allows operators to achieve dimensional measurement results to +/-0.1um. Utilising automatic focus, epi-illumination, and high precision optics, at the push of a button you can repeatably measure all 2D features, including height.
Features
Easier to Operate and with a Higher Degree of Accuracy
Operating conventional measuring microscopes and optical CMMs are challenging to master
Difficult to take accurate measurements
Difficult to use
Measurement is time-consuming
The LM Series solves all of these conventional problems, allowing anyone to easily and accurately operate it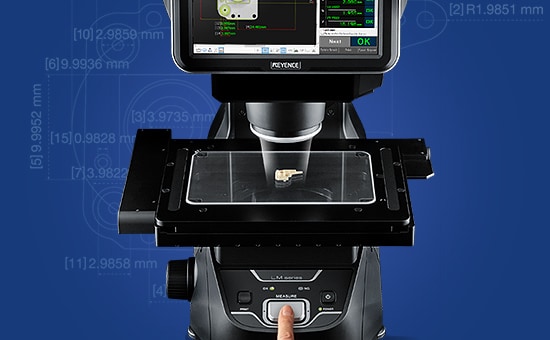 ±0.1 μm high accuracy
Simple operation for any user
Measure instantly at the press of a button
Metal cutting parts
Allows clear checks of surface edge cuts.