Heavy Duty Type Digital Pressure Sensors
GP-M series
Heavy Duty Type Digital Pressure Sensors
GP-M series
The New Standard for Pressure Sensors
Monitor More with a Built-In Temperature Sensor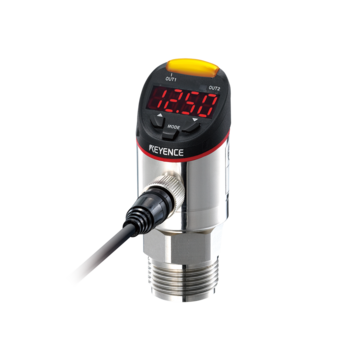 Oil, Water, even MISTY AIR A wide variety of applications can be realised with this sensor alone.
Features
Temperature Monitoring and IO-Link Support Expand Ease of Use
With environmental resistance, excellent visibility, a temperature measuring function, and ease of use via simple installation and IO-Link compatibility, the GP-M Series Heavy Duty Digital Pressure Sensor is the new standard for pressure sensors.
The ambient temperature suppression (ATS) function provides highly accurate temperature measurements. Pressure and temperature are monitored at the same time, and the LED indicates the temperature status at a glance. This unit is also compatible with IO-Link, allowing for easy symptom management and remote monitoring by digitally transmitting sensor data to a PLC or PC for quick identification of signs of errors.
Exceptional Ease of Use
The excellent visibility makes the equipment status clear, and the indentation-free step flush diaphragm structure reduces foreign particle clogging.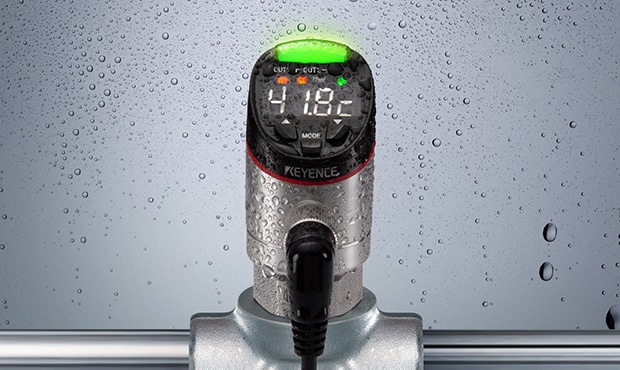 Rugged Design for Improved Environmental Resistance
Robustness is key to the performance of pressure sensors. The GP-M Series is highly robust, making it suitable for a wide range of applications and environments.
Waterproof/dustproof IP67
Operating ambient temperature* –20 to +80°C
Shock resistance 50 G
Vibration resistance 20 G
*No freezing or condensation
Quick Identification of Signs of Errors
The built-in temperature measuring function allows pressure and temperature to be monitored simultaneously for quick identification of signs of errors.