Auto ID Products
A rich lineup of code readers that support an ultra-wide field of view, and ultra-long reading depth. These products allow for stable inline reading of barcodes and 2D codes at high-speeds in the logistics and manufacturing industries. The lineup includes a fully automatic tuning type that requires no external lighting so that anyone can easily install, operate, and monitor the readers from nearly anywhere.
Handheld Readers
The SR-G100 Series is capable of reading at remarkable speeds, even with hard-to-read codes.
Features
Unprecedented High-Speed Reading
The SR-G100 Series is capable of reading at remarkable speeds, even with hard-to-read codes.
Easily Customisable Settings
Automatic tuning is done just by pushing the function button and reading a code. Use the device on site without the need to carry around a PC.
Easy code detection & immediate decoding. Easy code capture allows high speed reading.
Features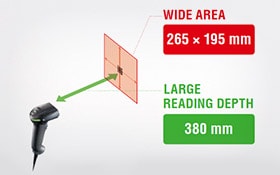 Easy Code Capture Allows High Speed Reading
Thanks to a wide reading area and deep depth of view, codes area easily captured at the pull of the trigger.
Furthermore, high-speed reading that was not available with conventional handheld readers is now possible.
Drop impact resistance 1.8 m
The HR-100 Series is built to withstand accidental drops. You can rely on its durability and use it without fear of damage.
1D Code Readers
KEYENCE's new BL-1300 Series (3Hi-Digital) models. The first models in this class to use parallel digital processing technology.
Long range, 700 scans/sec., laser type barcode readers with Windows® setup software, offers a reading range of up to 47inches.(1200mm)
Half the size, twice the range of other Barcode Readers in its class, built-in PMI function for real time monitoring and reading performance reporting.
LED/CCD type barcode readers using a compact, space-saving design for mounting flexibility and OEM applications.